The bank of the future requires new skills
By Neal Cross, Chief Innovation Officer, DBS Bank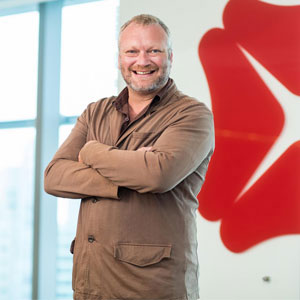 Neal Cross, Chief Innovation Officer, DBS Bank
Traditional organizational and leadership roles are being challenged by the digital economy, and in fact we are in the midst of a profound transformation. Banks are a great illustration of this phenomenon and I believe it has a long way to go. The traditional structure in a bank is top down, siloed, and inflexible. It has suited banks well over the last three hundred years. Contrast that with a start-up. A start-up is lean, because it has to be. It is flat structured, agile, able to pivot. Through the 'gig' economy it is also possible to get many tasks completed by someone that you never meet outside of the digital environment.
As we as a bank look for fresh talent to bring in to DBS it's easy to see that the skillsets for the bank executive in the near future will be very different to those required in a leader today. In our own business we are deliberately pursuing a strategy of creating ecosystems. These can be internal ecosystems within the bank; they can be external with universities, start-ups, and partner organizations.
This ecosystems approach is hard for bankers to get used to but we know we can't possibly have all the answers within the bank. Creating and working with ecosystems is already paying dividends in fruitful collaborations and interesting business possibilities that we wouldn't have identified in a traditional bank model.
Introducing the CEO (Chief Ecosystem Officer)
This ecosystems approach will need a new kind of leader, a new addition to the C-suite – the Chief Ecosystems Officer.
The Chief Ecosystems Officer will not be a traditional banking executive. They will likely have multiple skills and experiences from within finance and other disciplines, from start-ups to traditional business environments. Importantly she (or he) will be able to join the dots to develop creative strategies – their main focus will be on tackling what the customer problems and pain points are. That's why with our Hack2Hire and UNI.CORN recruitment programmes we are looking for skills across business, problem-solving, and design.
If the leader of the future is the Chief Ecosystems Officer the bank itself will need to be at the centre of a vibrant ecosystem
Most of all we are looking for the spark and drive to create new opportunities and reinvent old legacy solutions.
In doing so I hope we're bringing a new cohort of future Chief Ecosystems Officers that will support the development of the digital economy not only at DBS but hopefully across Asia.
What kind of organization will she (or he) work in?
The reality is the fabric of the bank of the future will also need to be completely different to the bank of today. I don't mean there won't be specialisms like risk, compliance, consumer banking, or corporate banking. They will be there. Those functions will have a purpose and customers will still need some kind of banking services. But they cannot operate in the silos that they operate in today. The financial services organization of the future will need to be much more organic and responsive.
Firstly it will be focused on products and services, not on processes. Bank SWAT teams will be pulled together that quickly bring ideas to market – not quickly for a bank (which as we know can be months, or even years) but quickly for a consumer focused organization. The old model of putting a project team together, scoping a project, putting out an RFP and appointing a tech vendor or multiple tech vendors to implement an (overly) complex project just won't wash. Equally, having teams of innovation or digital experts parachuted in every now and again will only scratch the surface of the potential within an organization.
The fundamental structure of the bank – its fabric – has to be different. Tools, skills, and even spaces will need to be adaptable. The traditional building blocks will change. A key focus for us at DBS will be the API layer that will enable us to link our back end banking systems with front end customer solutions. That opens up whole new possibilities. As the cloud develops it will be even easier to bring in new products and solutions to bespoke customer problems.
Talent will also be more flexible in the gig economy. A major objective for us is creating a bank that is effectively a 22,000 person start-up. We're already viewing our teams across the six key markets in which we operate in Asia to make them more agile and cross-functional.
It's not just the bank's employees that will be affected. Vendor partners will also need to evolve their models. In a world of interoperability, with agile working groups focused around specific customer jobs to be done, traditional vendors will need to have the flexibility and breadth of expertise to work with bank teams over short periods as well as over the length of major transformative IT projects.
If the leader of the future is the Chief Ecosystems Officer the bank itself will need to be at the centre of a vibrant ecosystem – one that links to start-ups, technology providers, and customers in a much more fluid and responsive way across functions, business units and geographies. What's exciting about technology is that it enables us to do stuff – exciting stuff. The challenge is creating organizations and partnerships that are agile enough to cope and team members that have the skills to remain relevant.